Thursday, September 23rd, 2010
Rue Ste-Catherine in Montreal has been full of people at every occasion they are allowed on the street, including the current car-free week. Since it is a really bad street for cars, would it be a good idea to turn it into a pedestrian mall all the way?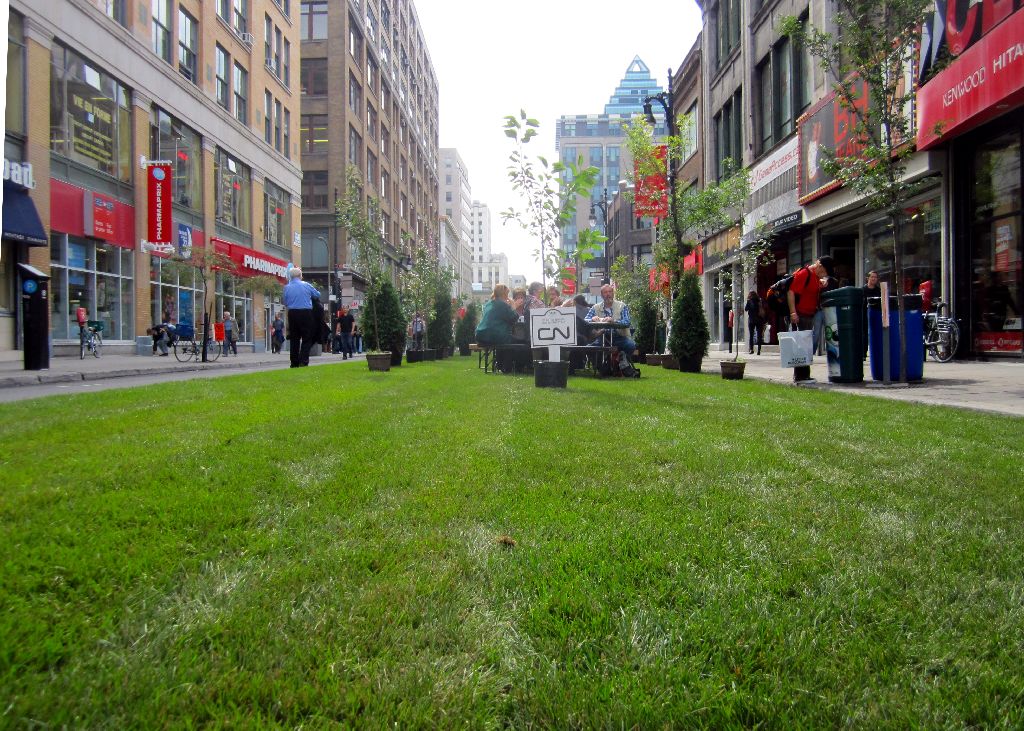 As part of "In Town Without My Car All Week Long!", held from September 20 to 24, a portion of Montreal's downtown around Rue Ste-Catherine was open for pedestrian traffic yesterday. Ironic that the official map calls the areas "closed"; I'd probably call them "open":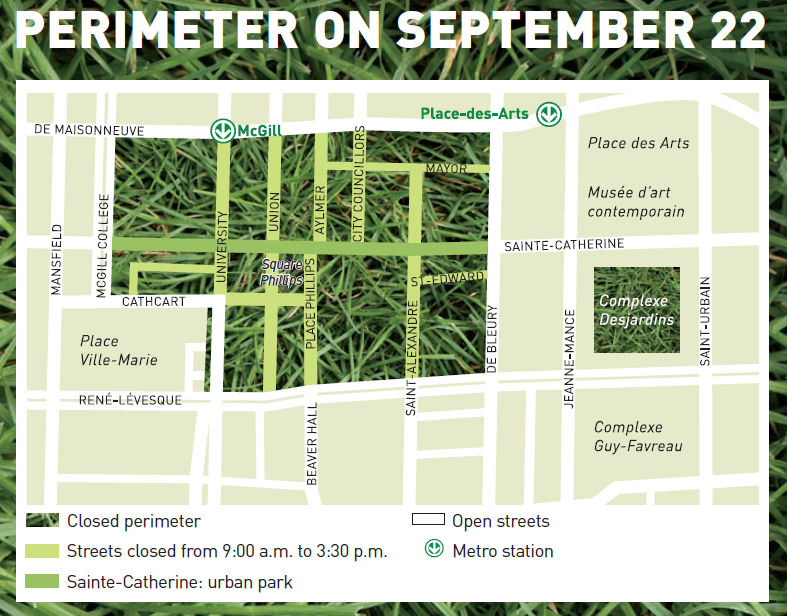 Despite being part of a "week" without cars with activities surrounding car free living, the cars were apparently only banned for one day. Which is unfortunate; people seemed to like it. The street really came alive, and the make shift park added a lot of atmosphere; it was kind of Zen.
There has been some talk about pedestrian malls in the blogosphere lately. On the one hand, New York has been expanding it's pedestrian zones, starting with Times Square last year, and adding newest stretch just yesterday. On the other there are voices saying that pedestrian malls might be hurtful, that some cities actually revived their downtown by bringing back cars, and that pedestrian malls don't work in North America (compared to Europe or even Australia).
The main problem seems to be that a typical downtown of a North American City is a mono-functional office-space-oriented place, which is only alive from 9am to 5pm. After that, everybody goes home. And if you cannot take your car back to downtown, people apparently rather stay back in the suburb. If nobody lives downtown, there shouldn't be a reason for anybody to be downtown, right? And without people and without cars in the streets, people will start feeling unsafe and continue to avoid the area.
But on Ste-Catherine, complete pedestrianization might actually work. Not many people live along the street. Not only does it run through the downtown office center, it also has a vibrant night life, from the Gay Village on one end, to the 2nd Chinatown/Concordia Ghetto on the other.
The street is always full of people, many more than there are cars. In fact, as a car user, you should really know not to drive on Ste-Catherine, because it is essentially useless as a car artery. Traffic flows really slowly due to too many traffic lights, and is interrupted half way by all sorts of festivals, pedestrianized areas, or road closures because of construction.
At this point, hasn't the street shown its viability has a people-only space? Haven't drivers given up on this street at this point, anyway? Can't we finally ban the cars for good, and maybe add a bike lane? Don't we want every day to be car-free day on Ste-Catherine?