Montreal Frequent Service Map – Update
February 14th, 2013 by ant6n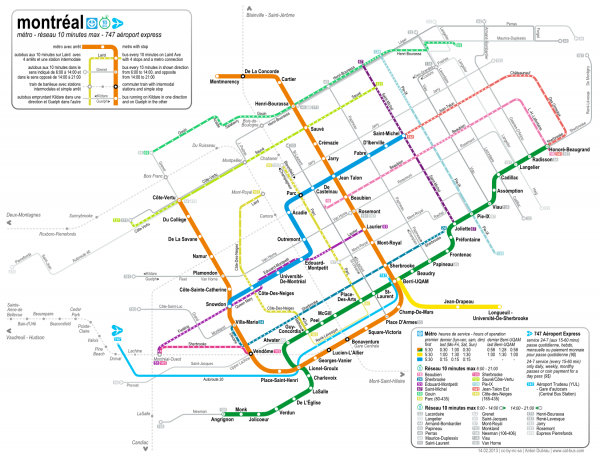 This has been a long time coming, I've finally gotten around to update my Montreal Frequent Service Map. This is a map of the Montreal Metro and the whole 10-Minute Max Network. There haven't been many changes:
The 211 Lakeshore is not a 10 minute bus any more. The STM chose instead to create a network of West Island express buses. Some of these follow approximately the route of the 211, so many of the stops along that route may actually see frequent service to Metro Lionel-Groulx every 10 minutes. But the routes are not exactly the same, and the mess of that all is against the spirit of a frequent service map.
The 132 Viau is now the 136 Viau.
The daily pass needed to use the 747 airport express now costs 9$.
I also took the opportunity to enlarge the West Island, and improve the proportions west of the Orange line, and added the missing LaSalle commuter rail station. I again made a 600 dpi version, which can be found here, and a pdf.