Bombardier Unveils Dual Mode Locomotive to be Used by AMT and NJT
September 23rd, 2010 by ant6n
Bombardier yesterday unveiled (also here) its new dual mode locomotive at Innotrans 2010 in Berlin. It is to be used on the new Train de l'Est commuter line in Montreal, and some lines of the New Jersey Transit (NJT).
They trains are purchased in a joint bid by AMT and NJT. The AMT has ordered 20 of these 130-ton machines for 236.3 $M, of which 75% is paid by the ministry of Transports of Quebec, and 25% by the AMT.
This is interesting because this new train could significantly improve the AMT network. The Mount Royal Tunnel going under the mountain does not have enough ventilation to support trains running on diesel engines; only locomotives powered by electricity are allowed through. This means that the only trains that can currently go through the tunnel are the ones of the fully electrified Deux Montagnes Line. But none of the other AMT lines are electrified at all, so the electric trains cannot serve those.
The Dual Mode train, which can switch between electric and Diesel operation, can go through the Mount Royal Tunnel, but at the same operate on any other line. This opens the possibility to finally route the Blainville-St-Jérôme Line directly downtown, and makes the operation of the Train de l'Est, which is now planned to open in 2012, only possible. Additionally this would allow routing lines through downtown, for example all the way from Mont-Saint-Hilaire to St-Jérôme.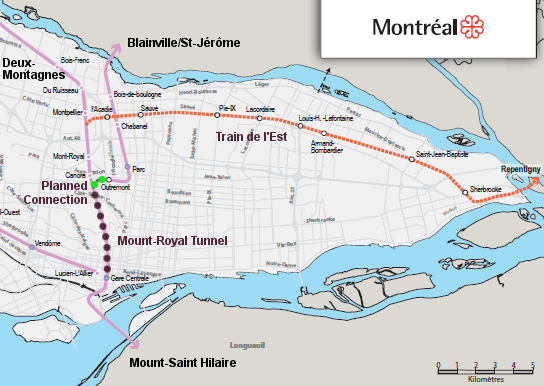 But also this opens up the possibility for gradual electrification of the whole commuter rail system. Electrification means cheaper operation of trains. It means the possibility to have rolling stock that accelerates and decelerates faster (because of less weight); giving the possibility for higher frequency and more downtown stations (surface metro, anyone?). The AMT is studying the possibility to electrify the whole system. Let's just hope that Jöel Gauthier, CEO of AMT, got a chance to ride the S-Bahn in Berlin, to see where the AMT could be in 20 to 30 years.